I have been taking more photos lately, and I enjoy capturing things here. A common problem with Chinese is they would rather take photos just of people, and not care about the background very much, but with my help I am trying to show some of them that the whole photo is important.
Like this one of two 'friends'.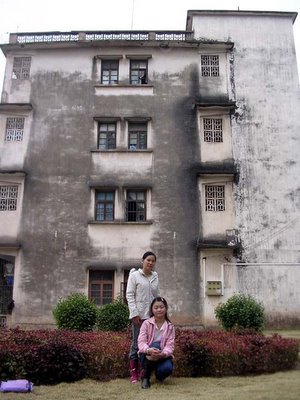 These are some of the other interesting things to see in our town.
Ladies selling pickled fruit on the street.
Sugar cane - 5 mou (1/2 of 1 RMB) for a whole piece cut up and skinned ready to eat.
A beautiful Chinese boy who really looked board.
Anyway - we have been doing a lot of work and nothing else lately.
We had a pretty good Christmas day - we went to the Maoming International hotel and had a good lunch with bad service. Then we went and did a little bit of shopping and came home.
It really wasn't amazing, but we did meet a few nice people. One crazy Chinese girl called Fish! One crazy old American called Frank. That was what was fantastic - people are better than places, things etc. I just wish I could meet more people around here that I really liked. That we genuine. Many people really like us, but I guess I don't really like many of them. It has always taken me a long time to find people I actually really like. It took me a long time in Aus - and it's going to take me a long time here too.